2023 REGISTRATION IS NOW CLOSED
Late Registration is now closed, and we are no longer taking new entries.
Click on the button below to go to zFairs for editing your entry or paperwork:
Senior High Information
The Alaska Science & Engineering Fair is open to all Alaskan senior high school students. There is no limit to the number of students that a school can send to the Alaska Science & Engineering Fair.
The Alaska Science & Engineering Fair is affiliated with the International Science and Engineering Fair (ISEF) and follows its rules and regulations.
DO YOUR PAPERWORK FIRST!
According to ISEF, "The forms should be filled out and signed before any research takes place. (Only Forms 1C, 7, and the abstract are done after the research.)" If you want your project to be eligible to win the top prizes and go on to the International Fair, your paperwork must be in order. No exceptions.
SRC Approval Required for Some Senior High Projects
All students are required to have the appropriate paperwork filled out and signed BEFORE experimentation begins. Some senior high projects require Scientific Review Committee (SRC) approval. Your teacher or adult sponsor should contact us with any questions about which forms/signatures are needed. Check out the ISEF Rules Wizard below for more details.
Rules and Guidelines
Senior high projects for the Alaska Science & Engineering Fair must follow the rules of the International Science & Engineering Fair (ISEF):
The following resource helps you understand and follow the rules:
It also helps to know what the judges are looking for in your project:
Further resources:
Abstract Contest
Senior High projects are required to submit their Abstract form through the paperwork tab on zFairs. 
Required Forms & ISEF Rules Wizard
The Alaska Science and Engineering Fair does not provide any Alaska specific forms besides the ASEF Abstract Contest Entry Form. Instead we use the forms provided by the International Science and Engineering Fair. 
The easiest way to determine the correct forms to fill out is to use the ISEF Rules Wizard which will walk you through several questions about your project and determine the forms you will need to use for your project.
You can also find all of the available ISEF forms on the ISEF Forms Webpage. 
Related Science Competitions
Are you doing a water- or biotech-related project? You may be able to enter your senior high project in more than one competition. Enter your project in the Alaska Science and Engineering Fair and also:
Hint: Prepare for your project's safety check! When you set up your project at Registration, it must have a safety inspection. These pages extracted from the
Safety Inspector Training slide show (1.3MB PDF)
 describe items that may not be on your project display.
You can use items such as glass tubing, vinegar, tissue, and plant soil during your research, but please don't bring such items to the science fair. Take pictures of them! Put the pictures on your display.
Do you need these "unsafe" items at the science fair? No! Do your project ahead of time. At the science fair, describe what you did. The judges care that you can express your understanding of your project; they do not need you to reproduce the work in front of them.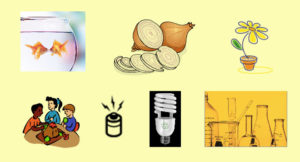 Objects like these belong in a picture on your display board. Do not bring them to the science fair.
Donate
Our Recent Donors:
Primary Sponsor:
(None)
Sponsors - $10,000+
(None)
Patrons - $5,000-$9,999
Donors - $1,000-$4999
Anchorage Mayor's Community Grant
Doug Molyneaux
Contributors - $500-$999
Friends - $250-$499
Elks Lodge Anchorage #2868
Home Depot
John Nolin
Roger Weese