2022 In Person AND Virtual Projects on Student Corner
The 2022 Alaska Science and Engineering Fair will be both in person at ChangePoint Church in Anchorage as well as Virtual on Student Corner. All projects, both in person and virtual will need to register their project on Student Corner, and create a project page on Student Corner.
Check out the video below learn how to get started with Student Corner:
Middle School (Grades 7 – 8, Some Grade 6) Project Information
The Alaska Science & Engineering Fair (ASEF) is open to all middle school students from all places in Alaska.
6th Grade Students
6th grade students may either enter as a middle school project or an elementary school project. Middle school projects are often eligible for more special category awards, however the rules and judging rubric are stricter than for elementary school projects. Help for 6th grade registration choice 
Paperwork Info
Middle school students do not have the same paperwork requirements as high school students and no paperwork is required; however, it is strongly recommended that teachers have the students fill out the forms Checklist for Adult Sponsor (1), Student Checklist/Research Plan (1A), and Approval form (1B). To enter the optional Abstract contest, obtain the abstract contest entry form. Click here to see Middle School forms and schedules 
Avoid These Experiment Types
Experimentation involving the following are strongly DISCOURAGED:
nonhuman vertebrate animals
controlled substances
pathogens (all bacteria isolated from the environment are considered pathogenic)
DNA
animal tissues
humans
If you have questions about the appropriateness of an experiment, please contact us. 
Prepare for your project's safety check! When you set up your project at Registration, it must have a safety inspection. These pages extracted from the
Safety Inspector Training slide show (1.3MB PDF)
 describe items that may not be on your project display.
You can use items such as glass tubing, vinegar, and plant soil during your research, but please don't bring such items to the science fair. Take pictures of them! Put the pictures on your display.
Do you need these "unsafe" items at the science fair? No! Do your project ahead of time. At the science fair, describe what you did. The judges care that you can express your understanding of your project; they do not need you to reproduce the work in front of them.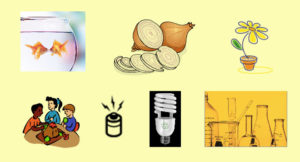 Objects like these belong in a picture on your display board. Do not bring them to the science fair.
Donate
Our Recent Donors:
Primary Sponsor:
(None)
Sponsors - $10,000+
(None)
Patrons - $5,000-$9,999
Donors - $1,000-$4999
Anchorage Mayor's Community Grant
Doug Molyneaux
Contributors - $500-$999
Friends - $250-$499
Elks Lodge Anchorage #2868
Home Depot
John Nolin
Roger Weese