Project Judging Schedule Posted!
Project Judging Schedule CLICK HERE
We will message each student using the project feedback system on Student Corner as well as posting a spreadsheet here on the ASEF home page.
If you are not able to attend your scheduled judging please contact us ASAP at help@alaskasciencefair.org
If we cannot contact you within your assigned judging window we can not guarantee you will have another chance to speak with the judges.
2021 Virtual Fair on Student Corner
The 2021 Alaska Science and Engineering Fair will be entirely virtual this year. We have partnered with a group called Student Corner that has developed a virtual science fair platform, with virtual project boards, remote team project collaboration, and built in video conferencing for judging interviews.
Check out the video below learn how to get started with Student Corner:
Information for Students
The Alaska Science & Engineering Fair welcomes all students in grades K-12 who create a science, engineering, or mathematics project. You do not have to enter or win at a local science fair in order to enter the Alaska Science & Engineering Fair. Everyone is welcome!
Many students create their projects as part of a requirement for a school class; however, anybody can produce a project outside of class. Wherever you do your project, be sure to work under the supervision of a teacher, parent, or adult mentor. You will need an adult to sign your paperwork.
The requirements are slightly different depending on your grade in school. Choose the link to your grade category:
Elementary (grades K-5, 6 if in elementary school)
Middle School (grade 6 if in middle school, 7, and 8)
Senior High (grades 9-12, no exceptions due to international ISEF rules)
Hint: Prepare for your project's safety check! When you set up your project at Registration, it must have a safety inspection. These pages extracted from the 
Safety Inspector Training slide show (1.3MB PDF)
describe items that may not be on your project display.
You can use items such as glass tubing, vinegar, and plant soil during your research, but please don't bring such items to the science fair. Take pictures of them, and put the pictures on your display.
Do you need these "unsafe" items at the science fair? No! Do your project ahead of time. At the science fair, describe what you did. The judges care that you can express your understanding of your project; they do not need you to reproduce the work in front of them.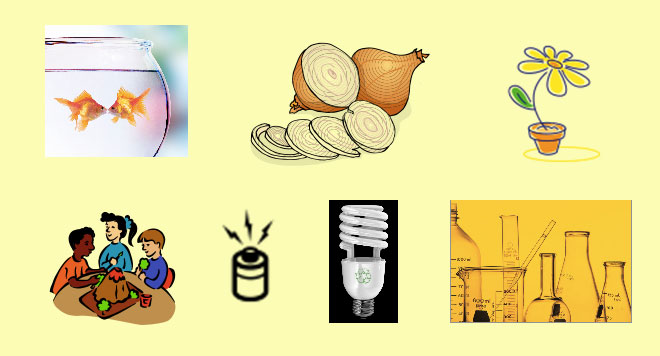 Objects like these belong in a picture on your display board. Do not bring them to the science fair.
Donate
Our 2020 - 2021 Donors:
Primary Sponsor:
(None)
Sponsors - $10,000+
(None)
Patrons - $5,000-$9,999
Donors - $1,000-$4999
Anchorage Mayor's Community Grant
Doug Molyneaux
Contributors - $500-$999
Friends - $250-$499
Elks Lodge Anchorage #2868
Home Depot
John Nolin
Roger Weese