2021 Science Fair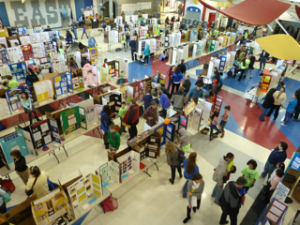 The 66th Annual Alaska Science and Engineering Fair (ASEF) will likely be a combined live and virtual fair. We invite all Grade K-12 students throughout Alaska to enter a science, engineering, computer science, or mathematics project in the fair. It is not necessary to participate in a local school fair before entering ASEF.
ASEF is an International affiliated fair. High school students compete for local and national awards and prizes, including the top award: A trip to the International Science and Engineering Fair. Middle school students are eligible for local and national prizes, and elementary students are eligible for local awards and prizes.
Upcoming Dates and Info
March 26-28 2021: 66th annual Alaska Science and Engineering Fair. Due to the closing of the Northway Mall, we are working to find a new location to host the fair. We will update this in the future once the location has been booked. 
Virtual & In-Person Hybrid: This year we are planning to have a combined virtual and in-person science fair. We are working to purchase a new virtual science fair software that will give students the tools to put together a much more complete and stylish virtual science fair project, as well as tools for recording an audio presentation, video interview capabilities and much more.
Virtual Participation Beyond 2021: While the pandemic has required us to find new ways to allow virtual participation, we realize that many elementary and middle school students in rural Alaska have not been able to participate in the past due to the cost and complications with needing to travel to Anchorage. Therefore we plan to support virtual projects every year going forward. We whole heartedly believe that ALL students in Alaska should have the ability to participate, even if traveling to Anchorage is not possible.
Support ASEF by Shopping at Fred Meyer
Fred Meyer Community Rewards: If you live in a community with a Fred Meyer, link your rewards card to us with Fred Meyer Community Rewards – https://www.fredmeyer.com/topic/rewards-3/#/community-rewards-4 – group 81550 "Alaska Science and Engineering Fair". This rewards program kicks back some funds to the fair with each Fred Meyer purchase you make, without costing you anything extra. We would sincerely appreciate your support!
Volunteering Opportunities
Become a Committee Member: The annual science fair event takes months of preparation and organization from our committee members. There are committees in charge of catering, fundraising, judging, awards and many more, and each committee takes several people to really make the fair happen every year, and we are always looking for more people to help make the fair a success. If you are interested in joining a committee, please email the fair director for more info: director@alaskasciencefair.org
 Judging Projects: Every year we have hundreds of projects to judge, and only a day to judge them all. We always need volunteers to come and judge projects on the day of the fair. If you are interested in being a judge, please email our judging committee for more info: judging@alaskasciencefair.org 
Setup, Check-in, & Teardown: On the day of the fair, it can take an army of volunteers to get all the tables & chairs set up, labels taped down, and students checked in before the fair can really get started, as well as tearing it all down once the fair is completed. If setting up tables and helping students get their paperwork is more your speed, please email our volunteer committee for more info: volunteers@alaskasciencefair.org 
Donate
Our 2020 - 2021 Donors:
Primary Sponsor:
(None)
Sponsors - $10,000+
(None)
Patrons - $5,000-$9,999
(None)
Donors - $1,000-$4999
Anchorage Mayor's Community Grant
Doug Molyneaux
Contributors - $500-$999
Friends - $250-$499
Elks Lodge Anchorage #2868
Home Depot
John Nolin
Roger Weese